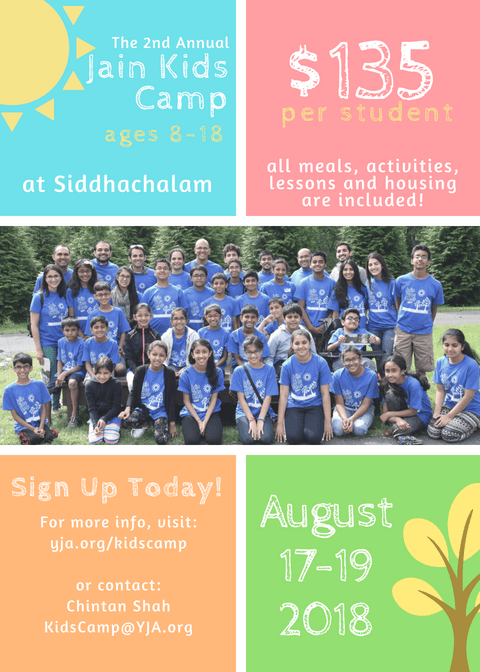 Unfortunately, the 2018 Kids Camp has been cancelled
due to circumstances out of our control. We sincerely apologize for any inconvenience and truly tried our best to not have this outcome. Please feel free to email us if you have any questions or concerns at all at
[email protected]
.
Kids ages 8-18, come join us at the 2nd Annual Jain Kids Camp at Siddhachalam!
Hosted by JAINA's Long Range Planning Committee and YJA, this camp is perfect for elementary, middle and high school students! Come make new friends, learn about Jain dharma and have a great time!
Session topic will include important Jain principles such as ahimsa, anekantvad, aparigraha, conflict resolution, karma, 4 destinies and many more. Participants will learn how to adopt these values into their daily routines and live and share a Jain way of life.
Parents, register your kids today for an end of the summer camp that they will never forget! We have limited spaces for kids to register, so sign up fast!
Youth from all over the US and Canada are invited with locals from NY, NJ, PA, CT, MA, MD, VA, and Washington DC especially encouraged to participate. Everyone can look forward to Jain pathshala sessions, sports, games and more.
The camp is organized by counselors and chaperones who include past and present YJA Board members and leaders of Jain sanghs across the US.
If you have any questions, please email [email protected].
---
WHO: Kids ages 8-18
WHAT: Jain Kids Camp
WHEN: August 17 - 19, 2018
WHERE: Siddhachalam Tirth - Blairstown, NJ